Sandy Fairfax Teen Idol series
NEW BOOK!

The Psychedelic Spy Series
Stories in Anthologies
Welcome to the wonderful world of retro-cozies, that is, clean mysteries set in the recent past when amateur detectives solved crimes by their brains and perseverance and without the aid of cellphones or the internet. It's a blast from the past with a touch of murder.
The Sandy Fairfax series stars former 1970's heartthrob of the hit TV mystery series, Buddy Brave, Boy Sleuth, now solving crimes for real. The 38-year-old entertainer finds that making a comeback can be murder! On each gig he stumbles (sometimes literally) across a body. He's also working hard to stay sober and reconnect with his estranged family and kids. And his relationship with his girlfriend is taking an interesting turn.
The Cold War goes cozy in the Psychedelic Spy series set in 1967. Hippies, rock music, the space race, secret agents, cats and small town living all add up to murder. Noelle McNabb is an actress at the Cozy Christmas Family Fun Park in Yuletide, Indiana. She longs for the lights of Hollywood, but finds real-life drama in her own backyard when she goes undercover with the super-secret spy agency SIAMESE (Secret Intelligence Apparatus for Midwest Enemy Surveillance and Espionage). Noelle and street-savvy agent Destiny King make an awesome spy team. But at times Noelle's Christian values and morals conflict with the agency's ends-justify-the-means attitude
You can reach me at my Facebook page.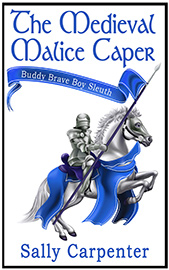 Want to stay in touch with my new books and promotions?
My character Sandy Fairfax broke into show biz at age 18 as the star of the smash hit teen action/adventure TV show, Buddy Brave, Boy Sleuth. From 1975 to 1979, every week Buddy saved the world from mad scientists, cracked bad puns, and never got more than a chaste kiss from the pretty girl guest star. Readers who sign up for my mailing list will receive "The Medieval Malice Caper," an episode from the Buddy Brave show. You can see how Sandy honed his sleuthing skills at a young age. Just click on the button below to download the story. Thank you and enjoy!
Get My Story
A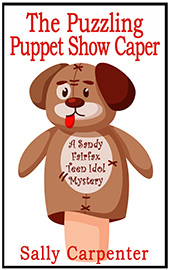 Here's another free story for signing up for my newsletter.
Sandy Fairfax has a guest spot on a low-budget children's TV show. He's happy to sing and dance with the cloth-covered puppets, but the good vibes fade as the puppeteers have murder up their sleeves. Click on the button to receive the story and enroll for my mailing list. If you're already on my newsletter list, you can still download the story. Thank you!
Get My Story